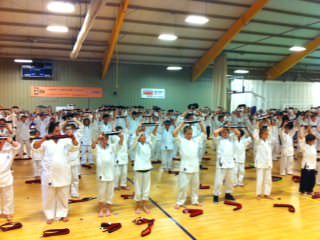 The twice annual Black Belt Spectacular is practically a holiday in karate tradition. It's a large group test for all Action Karate students in the area to earn their black belts.
This event was held on June 7 at the Philadelphia Sports Club in Chalfont, PA. What makes this event special is that it gives your child a chance to see what they are working towards. All students can set goals for themselves and enjoy recognition when they reach for their for dreams.
All of the Action Karate events are designed to build camaraderie among the students in class and to develop lifelong friendships.
Is your child looking to achieve something great outside of the classroom? Karate offers a unique education that instills lessons to last a lifetime. Contact Action Plymouth today!