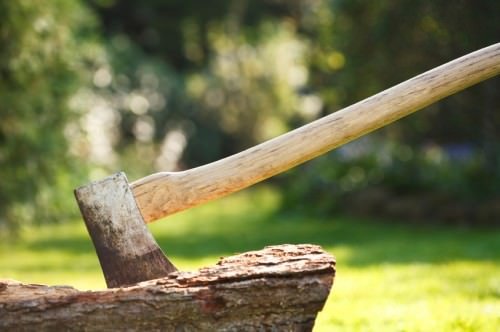 Most of us go through our days, weeks, months, and years just allowing life to dictate our itinerary to us.
Bills have to be paid. Children have to be taken to activities. There are endless social and family responsibilities and commitments.
We need to make sure that WE take time to plan to keep our needs tended to so that we can be the best version of us for others.
The Wood Cutter
Once upon a time, a very strong woodcutter asked for a job as a timber merchant, and he got it. The paid was great and so were the work conditions. For those reasons, the woodcutter was determined to do his best.
His boss gave him an axe and showed him the area where he was supposed to work. The first day, the wood cutter brought 18 trees.
"Congratulations," the boss said. "Go on that way!"
Very motivated, the woodcutter tried harder the next day, but he only could bring 15 trees. The third day, he tried even harder, but he only could bring 10 trees. Day after day, he was bringing fewer and fewer trees.
"I must be losing my strength," the wood cutter thought. He went to his boss and apologized, saying that he could not understand what was going on.
"When was the last time you sharpened your axe?" the boss asked.
"Sharpen? I had no time to sharpen my axe. I have been very busy trying to cut trees," he replied.
Think About Your Axe…
Are you sharpening your "axe"? How often?
Take time for yourself and sharpen your axe at Action Karate Plymouth Meeting. Our karate classes help students reach their individual peak physical and mental potential.
Haven't tried one yet? Contact us today to schedule your first lesson.