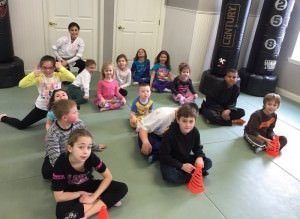 Students had a blast recently at Action Karate Plymouth Meeting's Presidents' Day Camp!
The day started with stretching and conditioning instruction so the students will be able to continue independently at home.
Instructors worked with students on basic gymnastics –  cartwheels and round-offs – then added karate kicks to those maneuvers. The students trained in Bo Staff and Demo Team Kata while earning two class credits for the day's efforts. Wow!
After lots of activities, the group ate lunch, played games, and wound down with movies before heading home. These full-day workshops guarantee real skill building and a spectacular experience.
See what events are coming up on our Events page – we look forward to seeing you!
Presidents' Day Camp Photos