Action Karate Plymouth Meeting offers weekly lessons to our students.These lessons help students focus on new goals and provide them with a variety of ways to improve themselves, as karate students and as individuals.
This week's lesson was about Coach John Wooden of the UCLA Bruins and his system for leadership & team building, more commonly known as the Pyramid of Success: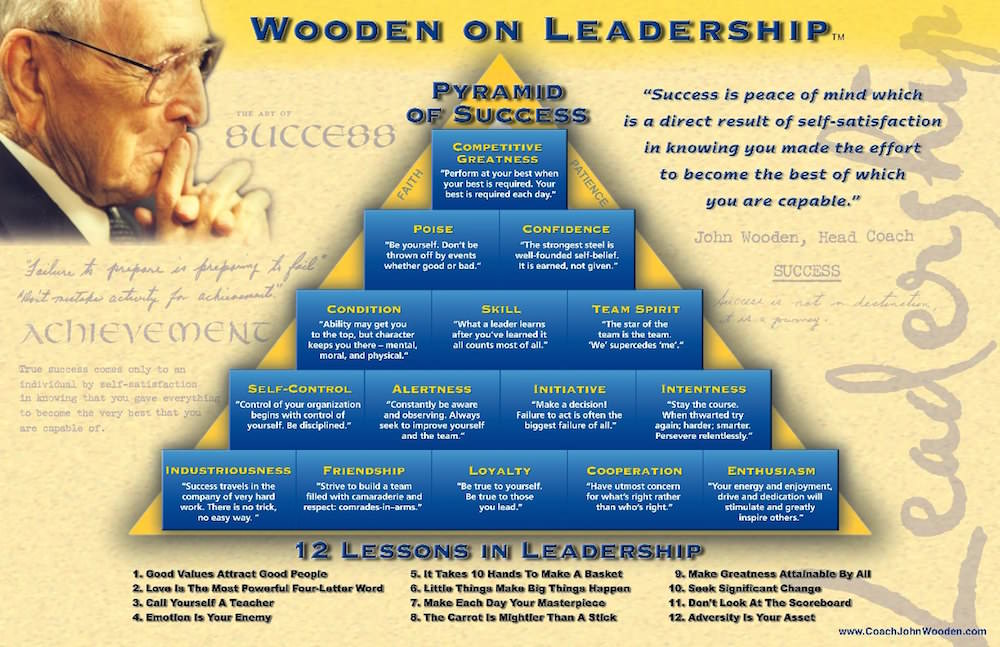 During his tenure as UCLA's Men's College Basketball coach, Wooden led the Bruins to 10 consecutive championships in the 1960s and 1970s.
This is an almost unfathomable feat in any sport, college or professional!
To get a group of athletes to perform at such a consistently high championship level is incredible, let alone to do it at the college level where your team changes every single season.
Not only that, but keep in mind that the players he was working with were in their teens and early 20's. Young adults at this age are more interested in enjoying their college years with friends and focusing on their studies than being cooped up in a gym all day!
For Coach Wooden to trained 10 groups of college-aged students to perform at a championship level, is beyond the ability of most leaders you will come across. Anyone looking to improve themselves as a leader, or just bring more discipline and consistency into their lives, can certainly learn a ton by modeling Coach Wooden's modus operandi!
By channeling Wooden's teachings, our team of instructors hopes to instill the same sense of discipline, dedication, and desire that was reflected in UCLA's championship teams.
We want our students to reflect upon the infamous quote by Coach Wooden, and to "…make the effort to become the best of which [they] are capable of."
And we know our students are capable of so much!
For more information on how to start making changes in your life or the life of your child, click here to contact Action Plymouth today!