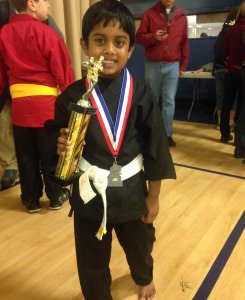 Recently, many of our students attended the Bi-Annual Action Karate Invitational karate tournament. We're so proud of the entire Action Karate Plymouth team. Everyone performed to the best of their ability, and it wasn't hard to see just how much everyone had trained for the big day!
As I watched our students compete, I started to think about their hard work and dedication to perfecting their craft. Tournament success is a phenomenal example what it means to truly be dedicated to something. You have to commit to your goals and train hard over long periods of time. You can't just "cram" on the night before a tournament and expect to succeed!
Training for a tournament is a real rubber-meets-the-road lesson in true grit. It's rare – if not impossible – to show up for your very first karate tournament and win first place.
Winning is a matter of combining highly developed physical skill sets, stress management, emotional control, and a serious determination to meet every goal you set. This is a lesson that I hope all of my students will pay very close attention to. It will get you far in life!
Three Feet From Gold
While watching the Action Karate Plymouth team compete, I was reminded of a very powerful lesson from what I believe to be one of the most useful books ever written, Think and Grow Rich by Napoleon Hill.
The book opens with the story of a prospector, who spent months and months hiking deep into the hills in search of gold. Every morning, he rose from his bed certain that today was the day that he would strike it rich. It was this motivation that kept him going.
He worked for hours every day, digging with his simple tools, turning up small bits of gold here and there but never the payload he had hoped for. He looked at his meager collection of gold dust and realized that he would never find what he was searching for. It was then that he decided to stop digging.
Upon hearing this, another prospector knocked on the man's door. He offered to buy the plot of land that the man had been working with. The man agreed and left for home, giving up entirely on his dreams of striking it rich.
The new prospector realized that it was silly to jump straight into a life of prospecting without acquiring the skill set needed to succeed! He hired a team of engineers and land surveyors to thoroughly inspect the area.
After analyzing their findings, he began digging. After a mere three feet of digging, the new prospector hit the largest gold mine he had ever seen! The first man had given up hope, not realizing that he was literally inches from achieving his lifelong dream. Had he combined all of the tools that he really needed, he might have succeeded.
The man had given up too soon. He never knew how close he was to victory, and missed out on the opportunity of a lifetime.
Never Give Up On Your Dreams!
As I watched my students competing in last week's tournament, I realized that the last thing I wanted was for them to stop trying when they've come so close to achieving their dreams. There is nothing worse in life than looking back and wondering what might have been if you had just pushed a little harder, stuck it out a little longer, or tried just a little bit more.
It takes more than a studious mind, a strong body, or a quick step to excel in karate. It's a combination of skills, and the dedication to refining all of them, that will help you reach your goals.
You can't expect to win your very first karate tournament. Likewise, you can't expect to win your 10th karate tournament, or your 100th! No matter what hardships you may be facing, no matter what your struggles may be, do not let a bit of adversity get in the way of fighting for your dreams. Who knows…you might be just three feet from taking home the gold!
Click here for more information on Action Karate Plymouth's upcoming karate classes and summer specials!