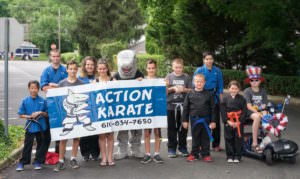 We had a blast at the Whitemarsh Township 4th of July Parade!
This patriotic parade draws thousands of visitors annually, and Action Karate Plymouth Meeting was honored to march during this year's festivities.
Students, instructors, and parents alike arrived in their finest red, white, blue, and Action Karate gear. Even our mascot, Asah the Shark, joined in on the festivities! We had fun meeting new people and seeing some familiar faces watching us march by.
At Action Karate Plymouth Meeting, we encourage students to remain dedicated to their community just as much as they are to martial arts! By participating in neighborhood activities, students can connect with their community and develop a strong appreciation for the world around them.
We look forward to marching again next year. This 4th of July Parade is fast becoming one of our favorite annual traditions!
Click here for more information on Action Karate Plymouth meeting's upcoming martial arts classes.