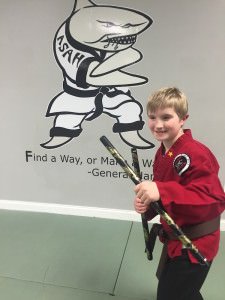 Michael has been with Action Karate Plymouth Meeting for four years now. It's amazing to see how much he's grown since his first day in our dojo!
He's come so far in his study of martial arts, that he is close to earning his next level belt. However, in order to truly earn a karate belt, a student must show growth in more areas than just their classes. They must prove to the entire Action Karate family that they are growing in all aspects of life.
To receive a karate belt, students must earn letters of recommendation from reputable sources outside of our classroom. When Michael began his path towards his new belt, he presented us with an impressive letter of recommendation from a teacher, who had some very impressive things to say about her student!
Ms. Kelly was Michael's homeroom teacher last year. She was as impressed with Michael's dedication and determination as the Action Karate Plymouth team was.
"Michael is a bright, hard-working, respectful young man. He is always willing to work hard and put in the time and effort to succeed…."
Michael has had to overcome obstacles that most young karate students never have to face. He has faced significant hearing loss in one ear, which requires him to wear an ear piece to aid in his hearing.
Not only did Michael embrace it, he was more than happy to share his experience with his classmates with confidence and understanding.
"While most students would resist transporting and wearing the [hearing] unit every day, [Michael] never once complained or felt awkward about having to utilize the ear piece. In fact, he embraced the situation and even got up and spoke about his hearing loss and how the unit worked to the entire class! In my opinion, this is the mark of a confident and capable young man."
This level of confidence and maturity is exactly what we look for in a karate belt qualifier. Congratulations to Michael, and we can't wait to see your continued growth within the Action Karate Plymouth team and beyond!
Click here for more information on martial arts classes at Action Karate Plymouth Meeting.