If you didn't make it to Action Karate Plymouth's Presidents Day Camp, you missed out on an EPIC day!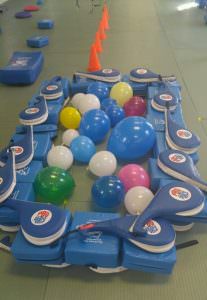 All of the participants had such a blast at the American Ninja Warrior-themed day camp. Our dojo was transformed into a challenging obstacle course, and kids participated in several training sessions throughout the day in preparation for conquering the course.
Class one was 90 minutes long and centered around strength, flexibility, and other forms of martial arts conditioning to prepare them for the rigorous obstacles ahead.
Class two was a 60-minute session teaching the group how to condition their core muscles. This muscle group is critical for balance in any martial arts activity, but especially in such challenging situations as an America Ninja Warrior obstacle course.
Class three was the big event…the one for all the marbles…the gigantic incredible spectacular American Ninja Warrior obstacle course competition! The course consisted of jumping from different target platforms, crawling through tunnels, walking across the wave master balance beams, dodging a group of hanging jump ropes, a balloon pit balance bridge, and much more!
With the challenge completed, the group relaxed while watching The Lego Movie and Monsters Inc. and playing games on iPads and Nintendo DS's. Each participant brought their lunch from home, which provided them with all of the nutrients they needed to recover from their fun-filled day of activities.
A phenomenal time was had by all!!! We can't wait for our next day camp for Spring Break!!!
Click here for more information on Action Karate Plymouth's upcoming Special Events.